Campus Equity Week: October 25-29 2021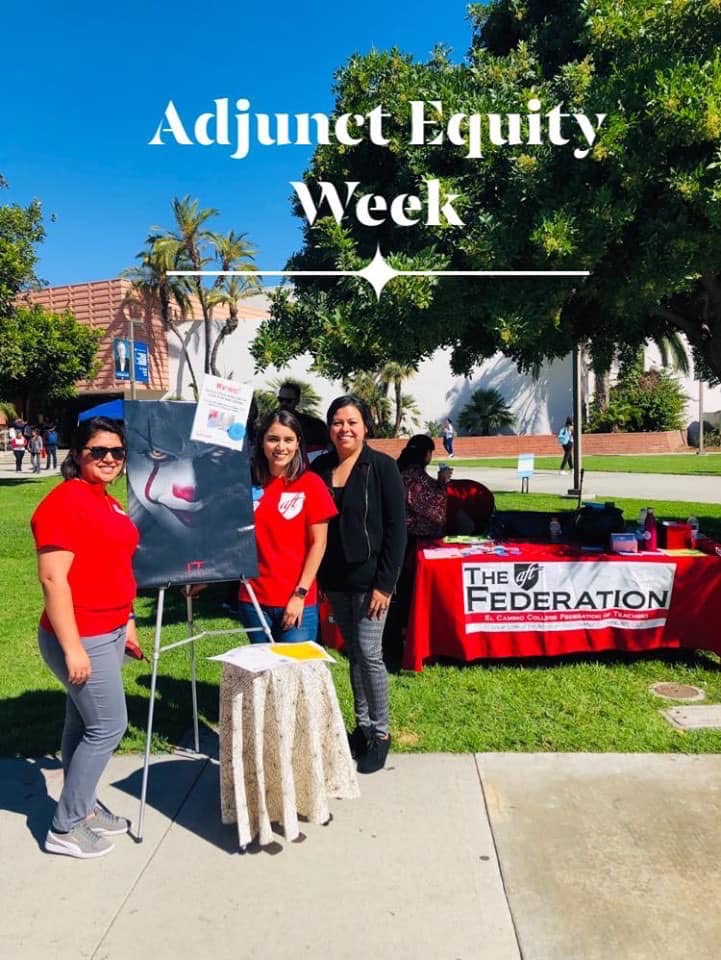 The Federation annually holds a Campus Equity Week to recognize the working conditions of part-time faculty who make up the majority of instructors at El Camino College. This week is a time for faculty, students, and staff to participate in engaging and informative activities to make progress toward closing the equity gap that persists as a result of the two-tiered employment system that exists across colleges.
Campus Equity Week 2021
October 25 – 29, 2021
Adjunct Equity Week 2021 Flyer (coming soon!)
Events and Activities:
Monday, October 25, 2021
Share your Stories ALL WEEK: Do you have a story that illustrates the adversities of teaching at El Camino College as a part-time instructor? The Federation is collecting short, personal stories that provide a firsthand look at the plight part-time instructors face semester to semester and year after year. Stories will be shared on our aft1388.com and social media accounts.
Submit Here – you can submit stories all week.
Tuesday, October 26, 2021
Part-time Equity IS Student Equity: Volunteer with the Warrior Pantry 11:00am -2:00pm
The Federation is collaborating with the Warrior Pantry to distribute food.
Sign Up Here – Limited Space Available
Wednesday, October 27, 2021
Part-time Retirement Workshop 2:00pm – 3:00pm
In this workshop, learn tips to navigate the CalSTRS benefits and services for part-time educators. Full time educators are welcome to attend.
Join Zoom Meeting ID: 958 3345 5375
Thursday, October 28, 2021
Know Your Rights Workshop 2:30pm – 3:30pm
Workshop will cover the rights, protections, and benefits of union membership.
Join Zoom; Meeting ID: 953 4777 6178
Friday, October 29, 2021
Appreciation Day
All faculty who participate in ANY event this week will be entered into an opportunity drawing for free gift cards! Winners will be notified by email and gift cards will be mailed to you.
Both full and part-time faculty are encouraged to participate in Campus Equity Week!
Additional Resources