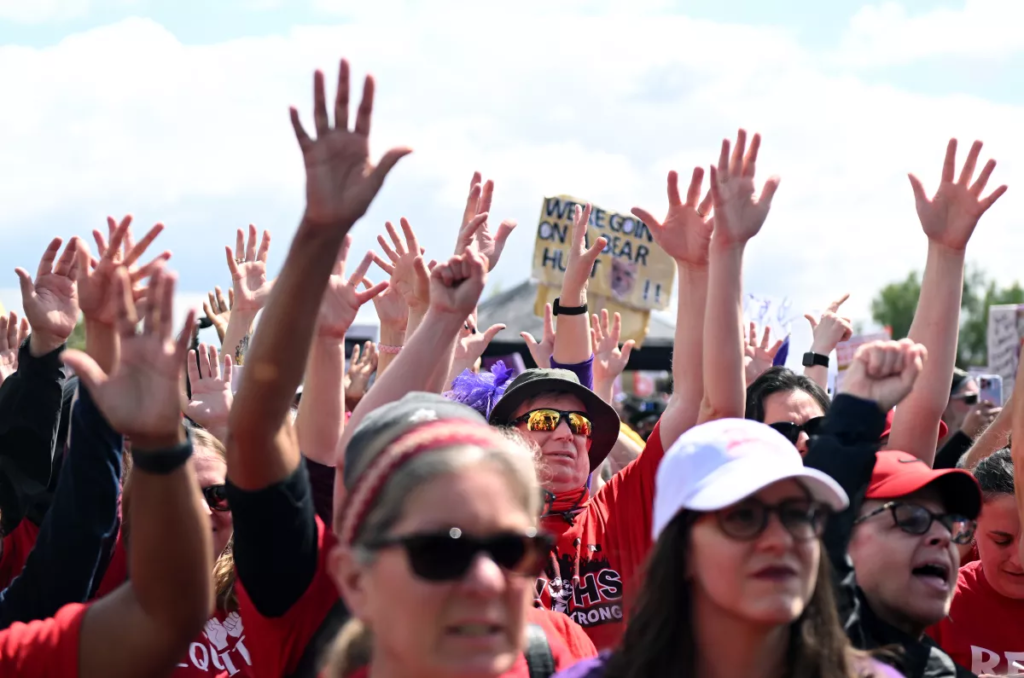 Los Angeles Unified union members, both teachers and support workers, attend a rally last month at Los Angeles Historic State Park. United Teachers Los Angeles and the district announced a tentative agreement Tuesday. (Wally Skalij / Los Angeles Times)
BY HOWARD BLUME STAFF WRITER APRIL 18, 2023 9:58 AM PT
The Los Angeles school district and the teachers union have reached a tentative agreement that provides a 21% wage increase over about three years, averting the potential of a second strike this school year.
The package also calls for additional pay increases in areas where it has been hard to recruit staff. These include an added $20,000 salary bump for nurses and $3,000 ongoing for school psychologists, psychiatric social workers, attendance counselors and other special services providers. All of these workers are represented by the United Teachers Los Angeles union.
The pact also includes an extra $2,500 ongoing increase for special education teachers and a $1,500 ongoing raise for early education teachers. There's long been a shortage of permanent teachers for students with disabilities. The early education field is growing with the expansion of transitional kindergarten as an optional grade for all 4-year-olds.
"This agreement with UTLA is a necessary step not only to make Los Angeles Unified the district of choice for families but also the district of choice for teachers and employees," Supt. Alberto Carvalho said. "I am grateful that we reached an agreement with UTLA in a manner that reflects the dedicated work of our employees, provides a better academic experience for our students and raises the standards of compensation in Los Angeles and across the country."
The union hailed the agreement as well but expressed a different tone with respect to the other side at the table.
"While Carvalho and the district spent the past year ignoring and undermining educators, students, and parents, we were fighting for a fair contract that meets the urgent needs of today and builds a strong foundation for public schools," a union release stated.
The union also credited its participation in a three-day joint strike in March that was led by Local 99 of Service Employees International Union. Local 99 represents the largest number of non-teaching employees, about 30,000 workers. The teachers union represents about 35,000.
"We picketed, rallied, and walked the line in a historic solidarity strike to demand respect for all education workers," the union stated. "Every win in this tentative agreement below is a direct result of our collective power in the streets."
In its release, the union, like the district, led with the salary increase, but it also called attention to class reductions.
These reductions are small, about two students per class over the life of the contract, but continue ongoing efforts to make classes smaller. The deal prioritizes the district's 100 most "fragile" schools for the reductions, using a designation based on low student achievement and other factors.
Caseloads for professionals such as counselors will also be reduced, but they remain large. The maximum caseload for a secondary school academic counselor would be lowered from 750 to 700.
The agreement must be ratified by the union membership and approved by the Board of Education.
There seems little doubt that the school board will favor it, as indicated by board President Jackie Goldberg.
"I am thrilled Los Angeles Unified and UTLA have reached an agreement that fairly compensates our incredible educators," Goldberg said in the district release. "The negotiation process is laborious but critical to ensure our contracts address the needs of our employees. I am thankful to everyone who sat at the table and came to this agreement."
Local 99 reached a tentative agreement March 24 that was subsequently ratified by its members.
Source: https://www.latimes.com/california/story/2023-04-18/l-a-teachers-win-21-wage-increase-in-new-lausd-contract